News 8's Shelby Kluver and Hy-Vee Registered Dietician Nina Struss show you how to whip up some delicious peanut butter and jelly fruit parfait!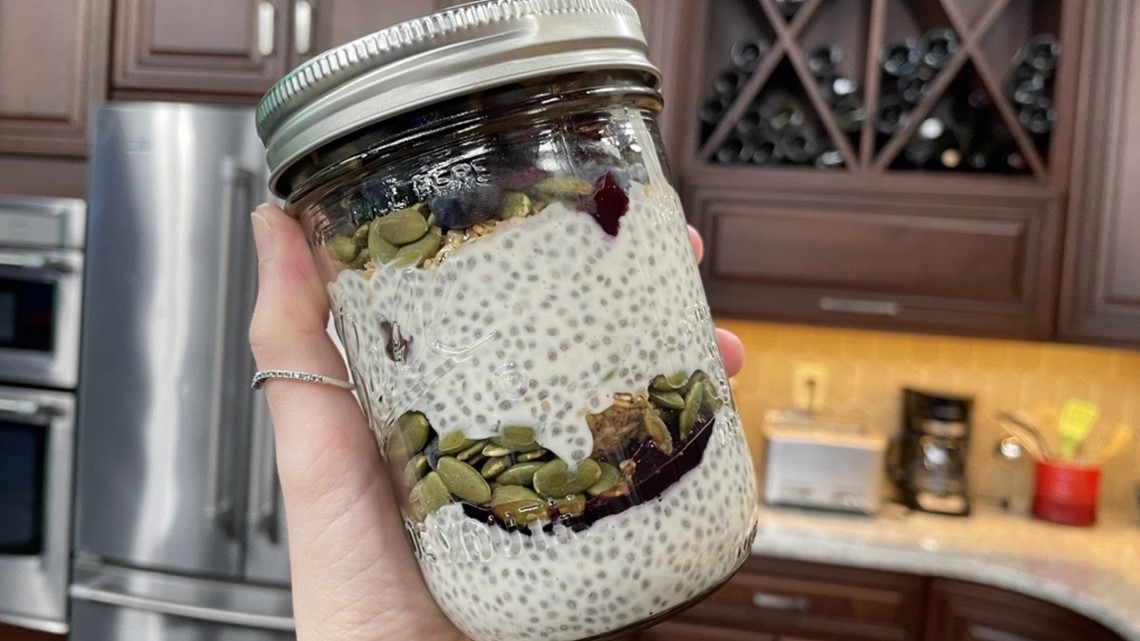 All you need:
2/3 cup vanilla-flavored coconut milk
2/3 cup Hy-Vee plain Greek yogurt
1 ½ tbsp. Hy-Vee Select 100% pure maple syrup
¼ cup Hy-Vee Creamy Peanut butter, divided
¼ cup Hy-Vee chia seeds
¼ cup Hy-Vee grape jelly, divided
½ cup Hy-Vee vanilla almond granola, divided
½ cup fresh blueberries, halved if desired; divided
2 tbsp. pepitas, divided
2 tbsp. Hy-Vee drained cranberries, divided
All you do:
Combine coconut milk, yogurt, maple syrup and chia seeds in a medium bowl. Refrigerate for 30 minutes.
Spoon ½ cup chia mixture into each of two 16-oz. glasses. Layer each with 1 Tbsp. peanut butter, 1 Tbsp. jelly, 2 Tbsp. granola, 2 Tbsp. blueberries, 1½ tsp. pepitas and 1½ tsp. dried cranberries. Repeat layers.
Cover and refrigerate for up to 24 hours.
Check out more Meal Prep Monday recipes and hacks on News 8's YouTube channel