MOLINE, Ill. — Taco Tuesday is about to get easier and cheaper with this taco bake recipe featuring smart ingredient choices. Hy-Vee Registered Dietitian Nina Struss joined News 8's Shelby Kluver to kick off Family Meals Month with a meal that saves on time and budget.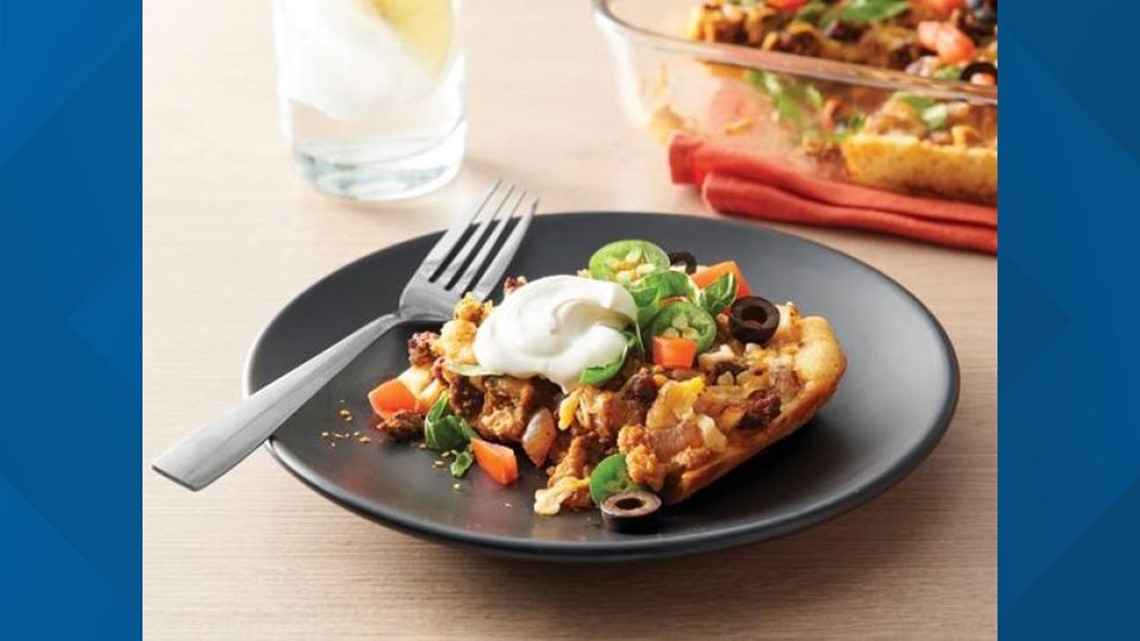 All you need:
1 (8-oz.) tube Hy-Ve original refrigerated crescent rolls
1 (16-oz) can That's Smart! Refried beans
1 (1-lbs.) pkg. 90%-lean ground beef
1 yellow onion, chopped
2 tbsp, That's Smart! Chili powder 1 tsp. That's Smart! Onion powder
1 tsp. That's Smart! Seasoning salt
1 cup Hy-Vee Colby jack cheese
Desired toppings such as shredded lettuce, chopped tomatoes, That's Smart! Sliced black olives, sour cream, and fresh jalapeno slices.
All you do:
Preheat oven to 350 degrees. Spray a 9x13-inch baking dish with nonstick spray. Unroll crescent roll dough without separating portions. Press crescent roll sheet into prepared pan. Spread refried beans over dough; set aside.
In a large skillet, cook ground beef and onions over medium heat until onions are tender and beef is no longer pink (165 degrees), about 5 minutes. Sprinkle with chili powder, onion powder, and seasoning salt. Cook and stir 1 minute more.
Evenly spread ground beef mixture over refried beans. Sprinkle with cheese. Bake 30 minutes uncovered or until internal temperature reaches 165 degrees.
Remove pan from oven and top with desired taco toppers such as shredded lettuce, chopped tomatoes, That's Smart! sliced black olives, and/or fresh jalapeno slices. Serve immediately.
Watch more Meal Prep Monday recipes, hacks on News 8's YouTube channel