News 8's Shelby Kluver and Hy-Vee Registered Dietician Nina Struss show you a weeknight dinner that's high in iron, calcium and potassium. And this recipe is a perfect example of a healthy and simple meal that won't break the bank.
Part of Nina's mission is to show you how to prep easy and healthy meals, as well as how to use ingredients several different ways. For this recipe, you can check out Nina's ideas for what else to meal prep if you have leftover chicken or beans. And as always, you can check out all of her past ideas for our Meal Prep Monday segment here.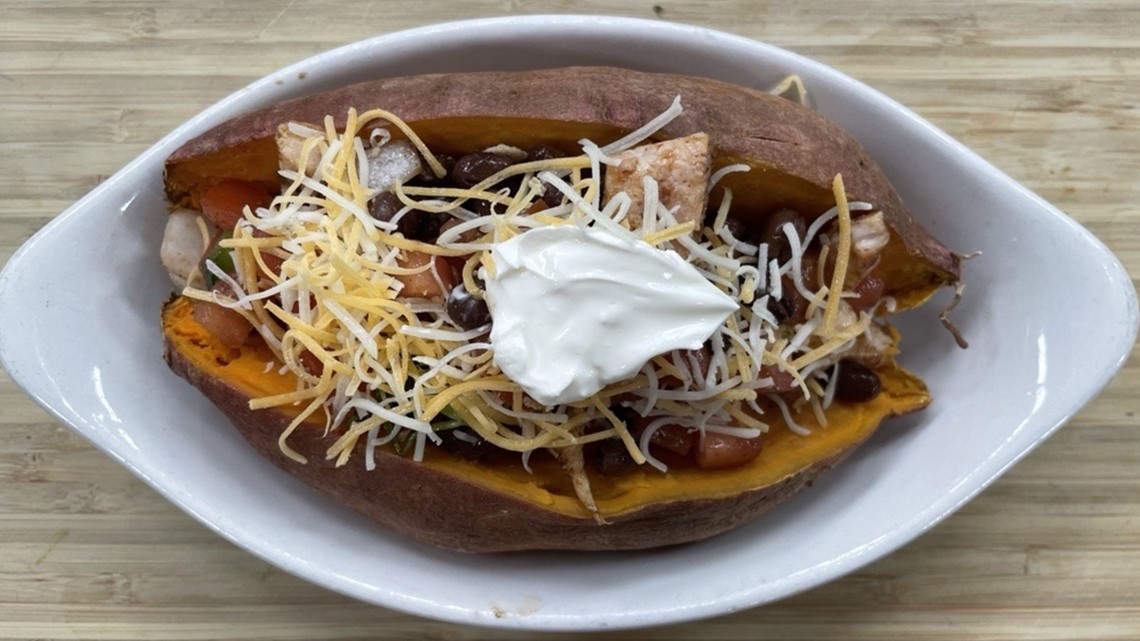 All you need:
2 medium sweet potatoes (about 12 oz. each)
1 ¼ cups Hy-Vee fresh pico de gallo, divided
¾ cup Hy-Vee canned no salt added black beans, drained and rinsed
½ cup shredded Hy-Vee rotisserie chicken
1 ½ tsp. salt free fajita seasoning, divided
½ cup Hy-Vee finely shredded Mexican cheese, divided
¼ cup Hy-Vee sour cream
½ tsp. fresh lime juice
Fresh cilantro, for garnish
All you do:
Scrub sweet potatoes; pat dry. Pierce potatoes all over with a fork. Place potatoes in a microwavable-safe baking dish; cover with plastic wrap. Microwave on HIGH for 13 to 15 minutes or until fork-tender.
Stir together 3/4 cup pico de gallo, black beans, chicken and 1 tsp. fajita seasoning in a medium microwave-safe bowl; cover with plastic wrap. Microwave on HIGH for 1-1/2 to 3 minutes or until hot.
Cut potatoes lengthwise in half. Place each potato, cut sides up, on a microwave-safe serving plate. Slightly fluff inside of potatoes with a fork. Sprinkle each potato half with 2 Tbsp. cheese. Top with chicken mixture and remaining 1/4 cup cheese. Microwave each potato, uncovered, on HIGH for 1 to 2 minutes or until cheese is melted.
Stir together sour cream, lime juice and remaining 1/2 tsp. fajita seasoning in a small bowl. Top potatoes with remaining 1/2 cup pico de gallo and sour cream mixture. Garnish with cilantro and serve with lime wedges, if desired.
Check out more Meal Prep Monday recipes and hacks on News 8's YouTube channel