News 8's Shelby Kluver and Hy-Vee Registered Dietician Nina Struss show you a weeknight dinner that's as simple as dumping everything into a slow cooker and forgetting about it! The secret to keeping this pot roast juicy and tender: a soft drink you've definitely heard of. But... we're putting a twist on it!
For this recipe, we're using Zevia Cola. It's a naturally sweetened soda alternative that works as a healthy alternative to typical cola drinks. You can find it at your local Hy-Vee today.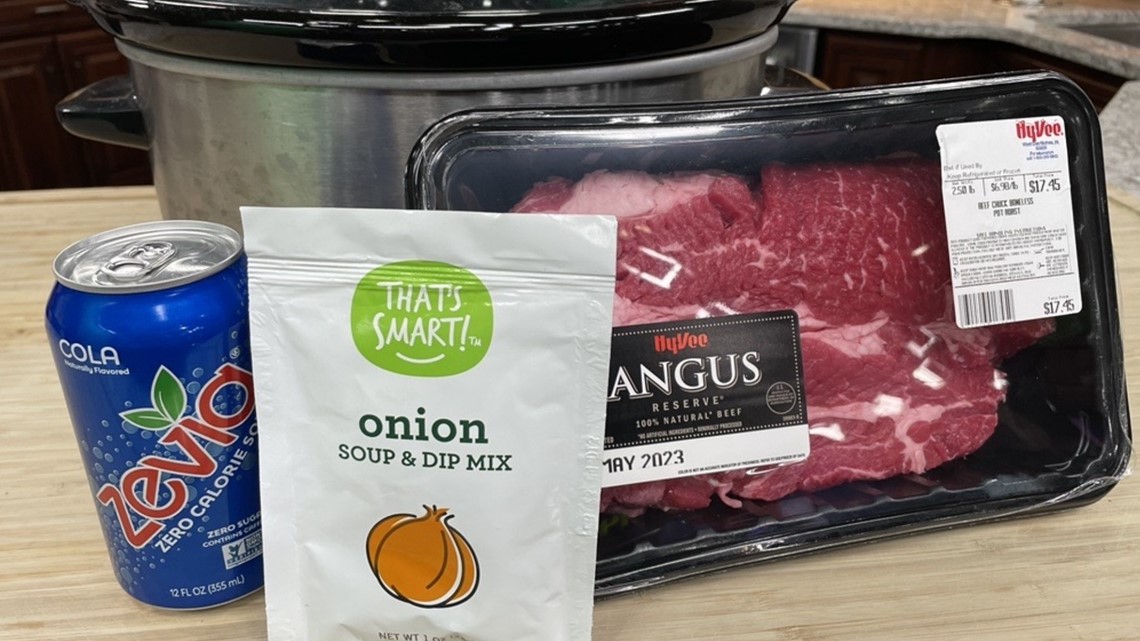 All you need:
1 (2.5 pound) lean chuck roast
1 envelope(s) Hy-Vee onion soup mix
1 (12 oz) can Zevia Cola
1 tbsp. Hy-Vee flour
¼ cup cold water
All you do:
Place chuck roast in a greased slow cooker. Sprinkle onion soup mix over roast. Pour Zevia on top.
Cover and cook on LOW for 8 hours or until roast is tender.
Remove roast from slow cooker. Pour cooking liquid into a saucepan, skim off and discard fat. Bring cooking liquid to a simmer. Whisk together flour and water and whisk into cooking liquid. Simmer for 5 to 10 minutes or until desired consistency is reached. Gravy will thicken upon standing.
Serve roast with gravy.
Check out more Meal Prep Monday recipes and hacks on News 8's YouTube channel