MOLINE, Ill. — You don't have to be Irish to be lucky during St. Patrick's Day in the Quad Cities!
Plenty of organizations and businesses have special events and deals lined up to coat the area in green and celebrate Irish cheer.
Quad Cities Grand Parade XXXVII
The St. Patrick Society's parade is scheduled to begin at 11:30 a.m. and end around 1:30 p.m. on Saturday. This is following mass at St. Mary's in Rock Island.
The Grand Parade will start at the corner of 23rd Street and 4th Avenue in Rock Island and wind its way through the Centennial Bridge before ending near E 3rd and Perry Streets in Davenport.
The Post-Parade Bash follows afterward at the RiverCenter from 1-4 p.m.
Below is a picture of the route: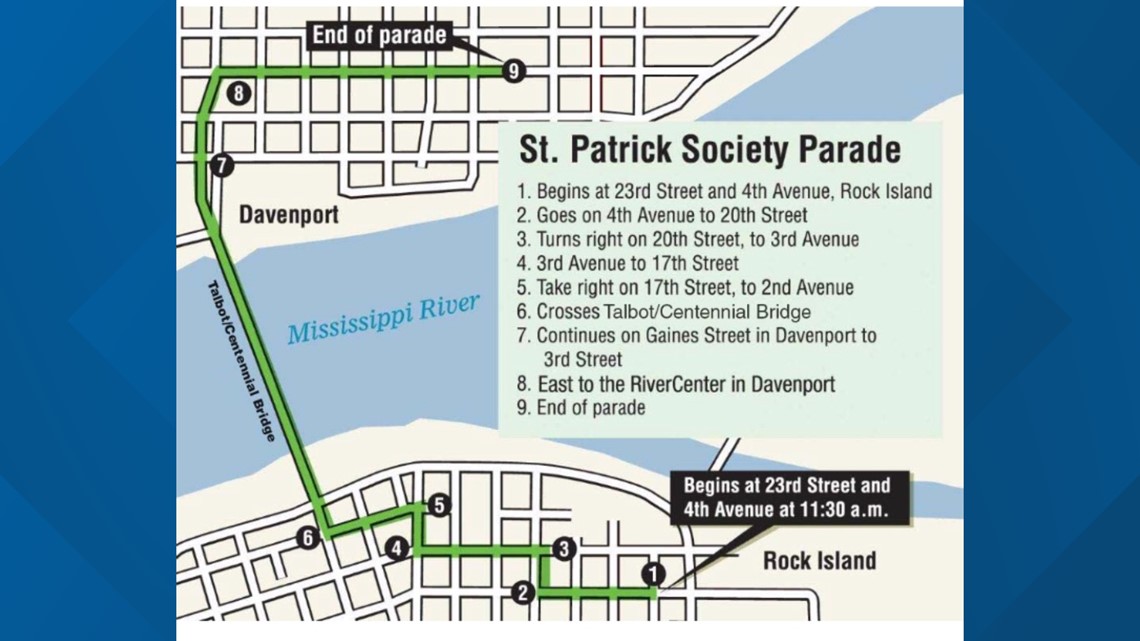 CASI's 41st Annual St. Patrick's Day Races
All of the races start and finish in front of the Figge Art Museum on 2nd Street between Harrison and Main. There are three races total:
Tot Trot @ 9 a.m.
1-mile Family Run/Walk @ 9:30 a.m.
5K Run/Walk @ 10 a.m.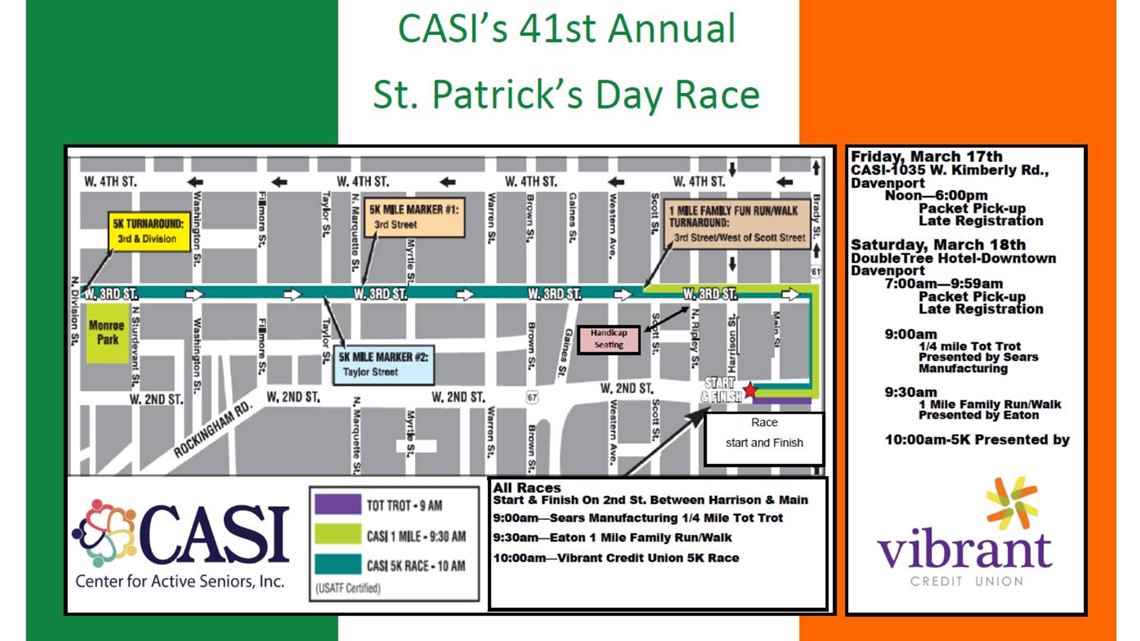 St. Patrick's Day Weekend Bash at the Mississippi Valley Fairgrounds
Brewery Drinks & Deals
Bent River will have $4 shots at both of its Quad Cities locations in celebration on Friday and Saturday.
The Geneseo brewery will have house-brined corned beef ready for corned beef and cabbage, Reuben sandwiches and Reuben pizza this weekend! They'll also have Irish-inspired cocktails and a brand-new Irish-style beer.
The East moline brewery will have a Tapping of the Irish Red Ale and some other St. Pat's feature cocktails.
This Moline brewery has a lot of fun stuff planned for this weekend! They'll be releasing their "Bag O' Dicks" Irish Red Ale Malt and will even have a coloring contest.
This Davenport brewery is getting ready for the parade with plenty of Eight Man Irish Red available!
This Bettendorf brewery will have the coveted green beer (which is really Lager Dam 14 with a dose of spirulina) this weekend.
Watch more news, weather and sports on News 8's YouTube channel