ROCK ISLAND, Ill. — Quad Citizens in Iowa and Illinois have an opportunity to catch live concert performances at Schwiebert Park once again this late summer and fall.
Thursday Night Groove, hosted by Rock Island Parks and Recreation and Rock Island Happy Joe's Pizza, has a mix of music including blues, soul, funk, and rock to name a few.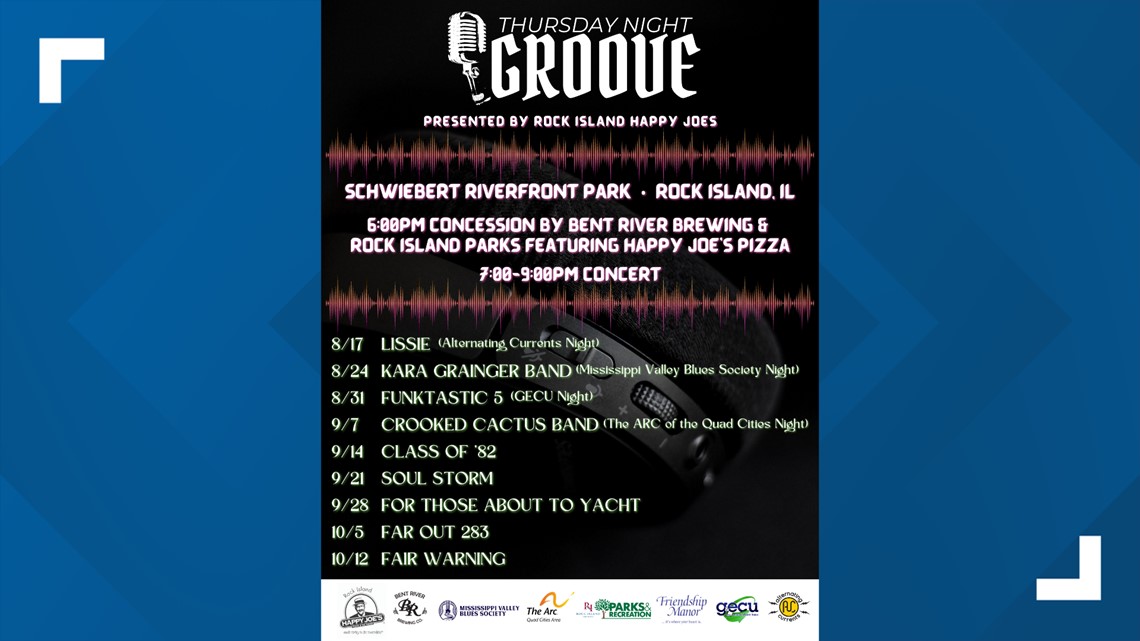 The goal of the event is to bring Rock Island together through food, music, and partnerships between local businesses and the public. Families are free to attend, and businesses will provide food and drinks at cost for attendees.
Concerts start at 7 p.m. on every Thursday starting on Aug. 17, running through Oct. 12. Parking for this will be available at 17th Street and 1st Avenue, and attendees should bring their own seating.
This year's lineup includes:
Aug. 17 – Lissie (Presented by Alternating Currents)
Aug. 24 – Kara Grainger Band (Presented by Mississippi Valley Blues Society)
(NOTE: Due to extreme heat, this show will take place at the Stern Center, 1713 3rd Ave., Rock Island)
Aug. 31 – Funktastic 5 (GECU Night)
Sept. 7 – Crooked Cactus Band (The Arc of the QC Night)
Sept. 14 – Class of '82
Sept. 21 – Soul Storm
Sept. 28 – For Those About to Yacht
Oct. 5 – Far Out 283
Oct. 12 – Fair Warning
Oct. 19 - **Reserved for rain date if needed**
Watch more news, weather and sports on News 8's YouTube channel