COMING SOON: Davenport
What's going in here? What's happening over there? You ask - We find out!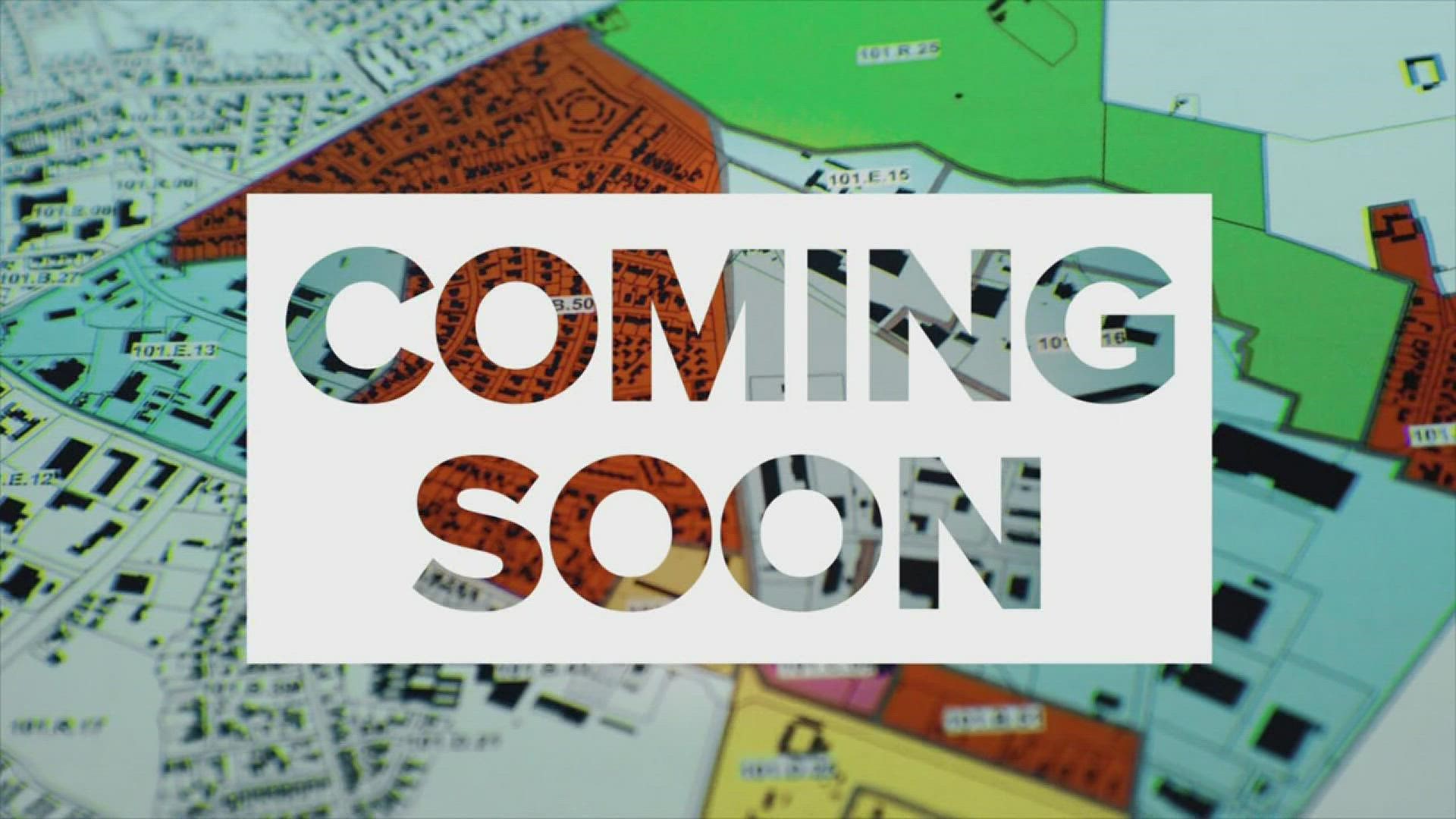 What's going in here? What's happening over there? These are questions we all ask as we drive around town and Coming Soon Segment is about answering those questions.
Coffee Shop Expanding
:
Downtown
Cool Beanz Coffeehouse in Rock Island is opening its second location inside Scott Community College's Urban Campus on West Third Street, between Brady and Main streets. This downtown location will be open to everyone - not just students - and is set to open Nov. 1.
Video Aired on October 21st, 2021:
River Heritage Park
:
River Drive
News 8 Viewer Patricia asked about the work being done at River Heritage Park in Davenport. This is east of the Arsenal Bridge where cruise ships are docking, with hundreds of people on board ready to visit the Quad Cities!
According to Davenport Public Works, crews are extending the riverwalk by about 500 feet, which will include more lighting and seating. They're also constructing a two-acre lawn and prepping the east side of the park for future phases.
All of this work will allow more cruise boats to dock at the park, which is great for tourism as we reported in this story.
Video Aired on October 7th, 2021:
Big Development Project
:
53rd Street
Russell Construction and Development is announcing a big project called Birchwood South. It's located on the south side of 53rd Street, east of Utica Ridge Road in Davenport.
Since the 1930s, the property has been a working farmstead. Over the years, attempts to buy the land and transform it have failed. Now though, it's about to undergo a huge transformation.
The property is 38 acres and it will be divided into two parts. The part closest to 53rd Street will hold restaurants, stores, and businesses. South of that part, Dolan Homes is going to build house and townhomes.
All the prep work is underway and construction is expected to begin in Spring of 2022.
Video Aired on September 23rd, 2021:
MidAmerican Energy's New Facility
:
Eastern Iowa Industrial Center
News 8 Viewer, Steve, asked on July 7, 2021: "What's being developed in the area of Hillandale Road and Enterprise Way?" We reached out to the Quad Cities Chamber and the Greater Davenport Redevelopment Corporation and here's what we found out:
MidAmerican Energy is moving its Service Center to a new location - from Marquette Street in Davenport near Centennial Park to the Eastern Iowa Industrial Center by Interstate 80 on Enterprise Way near Hillandale Road.
The 188,000 square foot facility will provide a home base for gas and electric crews, fleet and maintenance services, and inventory storage. It will also house approximately 130 employees who are located at MidAmerican Energy's current center.
Work at the site began in May 2021 and is expected to wrap up late 2022.
Video Aired on September 9th, 2021:
Brand New Two-Tenant Building
:
53rd Street
News 8 Viewer Sheryl asked "What is coming soon to First Midwest Bank on 53rd [Street] in Davenport?" A brand-new building is being built west of Elmore Avenue and across the street from CostCo.
According to Davenport's Community and Economic Development Department, it's a two-tenant building - retail and restaurant. The retail is going to be Mattress Firm, but the city has not received the name of the restaurant yet.
We will keep you updated!
Video Aired on September 2nd, 2021:
Tech College Gets New Name, Location
:
Elmore Avenue
Orion Technical College, formerly Hamilton Tech, is moving from its location on 53rd Street east of Brady Street in Davenport to the old Gander Mountain store on Elmore Avenue.
The college was bought in February 2021 and a groundbreaking took place in March. Orion Technical College has already had a soft opening, but the grand opening is coming up in September 2021.
Video Aired on August 11th, 2021:
New Seafood Restaurant
:
Kimberly Road
Yummy Crab is opening at Noon on Sunday, July 25th, 2021. The seafood restaurant is located off Kimberly Road in Davenport where Outback Steakhouse used to be. Yummy Crab has locations in East Peoria and Springfield, Illinois.
For more on Yummy Crab, click here.
Video Aired on July 21, 2021:
Financial Planning Group Moves
:
Utica Ridge Road
The Cities Private Wealth Group, a private wealth advisory practice of Ameriprise Financial, is hosting a ribbon cutting on Thursday, July 22nd, 2021 with the Quad Cities Chamber at its location on Utica Ridge Road, south of 53rd Street in Davenport. It starts at 11:30am and an open house will follow.
The financial planning group moved from their building a little further up the road on Utica Ridge Road to a new building because they expanded.
For more on The Cities Private Wealth Group, click here.
Video Aired on July 21st, 2021:
New Location for Two Beloved Businesses
:
Downtown
Ragged Records and Trash Can Annie are back! The two stores have been closed since the record-breaking flood of 2019. Now, more than two years later, they're returning with a new vibe.
A Grand Opening is taking place Saturday, July 17th, 2021 at their new location - 311 E. 2nd Street in Davenport. This is near The Half Nelson and Racoon Motel. The event includes limited-edition Record Store Day titles, a special signing of the book Punks in Peoria, and a best-dressed contest for a $200 gift certificate to Trash Can Annie.
For more on the Grand Opening, click here.
For more on Ragged Records, click here.
For more on Trash Can Annie, click here.
Video Aired July 14th, 2021:
New Luxury Townhomes
:
55th Street
Some new homes are coming to northeast Davenport. City leaders say Silverthorne Homebuilders is putting in this new development on 55th Street, just west of Utica Ridge Road, just behind the Hy-Vee.
No word when they're expected to open. Owner Jim Work says they're building the homes for a private investor.
Video Aired July 14th, 2021:
Music Venue Reopens in New Location
:
Downtown
Raccoon Motel is set to reopen at the end of July 2021 after closing due to the flood of 2019. The building is now on East 2nd Street, in between Iowa and Pershing in Downtown Davenport.
The first show's set for Friday, July 30th, 2021 with Los Angeles-based artist Claud, followed by a sold-out three-night stand with country artist Orville Peck. There is a full slate of grand opening week shows.
Video Aired July 7th, 2021:
Technology Spot for Kids
:
Utica Ridge Road
The business says they have hundreds of centers worldwide. The business is in the same strip mall as 392 Utica, another 392Caffe, as well as LV Nail Bar & Spa, and The Ridge.
Video Aired June 23rd, 2021:
Illinois Restaurant Expanding to Iowa
:
Utica Ridge Road
Combine is opening up another location in Davenport. It will be located in the former Bad Boyz Pizza, 5266 Utica Ridge Road in Davenport. Owner Jeff Harrop, who's also the Managing Partner of Bass Street Chop House in Moline, says it will have a similar look and feel to the current Combine in East Moline - just a touch more casual.
It's expected to open in October 2021.
Video Aired June 16th, 2021:
New Gas Station/Convenience Store
:
Highway 61 & I-280
Kwik Star has a sign up near that interchange. Workers within the company out of La Crosse, Wisconsin say they plan to have that store open in Fall 2021. The address is 13888 118th Avenue in Davenport.
Video Aired June 16th, 2021:
Coffee House Expanding
:
Hilltop Campus Village
Iron & Grain Coffee House is getting ready to open its second location. It's set to happen Saturday, June 5th, 2021, according to Streamline Architects. This one is located in Davenport's Hilltop Campus Village on Main Street near Davenport Central High School.
The East Moline location is here to stay. In fact, Iron & Grain is opening another location on the Illinois side in late summer 2021 in Silvis.
Video Aired May 26th, 2021:
New Brunch Spot
:
Downtown
A new upscale breakfast and brunch spot is coming to Downtown Davenport. Toasted is located on East 4th Street near Brady Street and you can't miss it, because the building is teal!
According to Kyle Carter with the Downtown Davenport Partnership, this property has been empty for nearly two decades and now it's getting a makeover.
Toasted is opening September 10th, 2021.
Video Aired May 19th, 2021:
Autism Center for Children
:
Eastern Avenue
A question we got from November of 2019 sparked an interest. Bette wanted to know what was going in just north of The Group- Obstetrics & Gynecology Specialists, P.C.
Caravel Autism Health is based out of Wisconsin, but they're expanding in the Midwest. Workers there say this is the first Iowa location they're in, but more are planned in the future. There's also room for more businesses in that building in the future.
Video Aired May 19th, 2021:
Do you have a development you want us to look into? Send an email to news@wqad.com with "Coming Soon" in the subject line.